Written by Carole
Are you a do-it-yourselfer (DIY) chicken farmer or trying to raise chickens on a budget? There are a wide variety of sources available online and locally to buy poultry equipment but sometimes it is just plain fun to come up with something for yourself and watch as the chickens enjoy your efforts. Not to mention the cost savings from using household items just waiting to be put to use.  So let's explore some items you can use to make homemade nest boxes for chickens.
Keep in mind when creating your chicken coops nesting boxes are not a necessity. They are actually a benefit to you in helping to have a central location for your hen to lay an egg. No need for egg hunting, all you do is go gather your eggs in one location. It also gives a place for broody hens to raise some chicks. Every now and then you may have a renegade hen or two that refuses to use the resources you supply but for the most part once trained where to go they will use it on a consistent basis.
So with these things in mind what could be some good items laying around the house that would make a good chicken nesting box?
The first thing that comes to my mind is a milk crate or a plastic crate. Turned on its side and nailed to the wall it is a handy item and stack well also if you wanted to stack one on top of the other.
An old dresser drawer. I saw this somewhere and cannot remember where but thought it was an excellent idea. And if you want you can section the drawer off for multiple boxes.
Five gallon buckets. Cut it in half and attach to a wall and you have two nest boxes.
PVC Pipe. A 10″-12″ diameter pvc pipe cut into 12″ section and fasten them to the wall. To fasten to wall take a 1×2 piece of wood of larger, cut the length of the pipe and attach to wall. Then screw the pipe on each end of the wood. (I got this idea from searching on the net for homemade nest boxes).
Cardboard box. This would be a temporary fix if nothing else is available.
Build your own out of scraps of plywood. Boxes should be around 10″ to 12″ wide.
Pet carrier.
I'm sure there are a variety of ways and if you want to share your creative ways to make do with what you have, please comment on this blog post.
To finish off this post, here are a few pictures I found that may give you some ideas: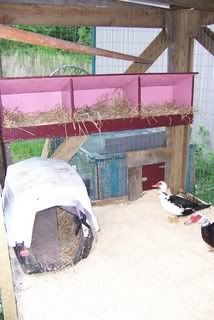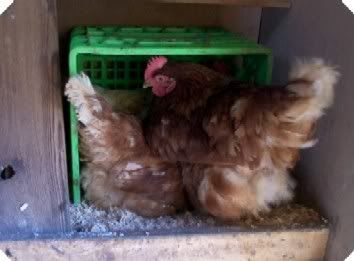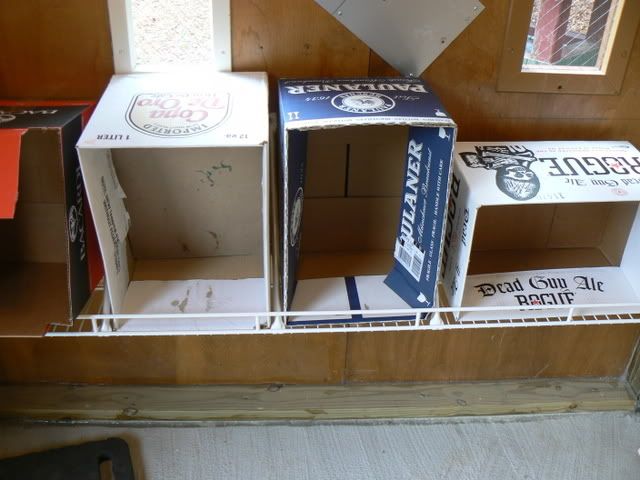 For more ideas, visit Chicken Nesting Boxes.
I also found this website/blog that has a great tutorial on building a chicken nest box from a pallet.
Tags: homemade nest boxes