Written by Carole
It has been a while since I have posted a new
chicken breed
so here it is. Today I chose
Australorps
due to information I read in one of the many forums I frequent.
These beautiful chickens were developed from the Black Orpingtons and came to the US in the 1920's. One person was quoted as saying, "This breed is a good one for young children. The are friendly and quiet, great brown egg layers and good mothers. Recommended for small back yard flock."**
They are available in standard and bantam size but the black comes in standard size only. They gained notoriety when one hen in the 1920s laid a record 364 eggs in 365 days. That performance has never been matched by subsequent Australorps.
Other facts about this breed:
Dual purpose breed meaning good for eggs and meat
Lay medium brown eggs
Single comb with no feathers on the legs
Good brooder and mother
Early maturing (begins laying between 5 to 6 months) and very cold hardy
According to what I have read, this breed is excellent for raising chickens in your backyard because they are quiet, gentle, and tolerate confinement well. Excellent breed for a chicken tractor.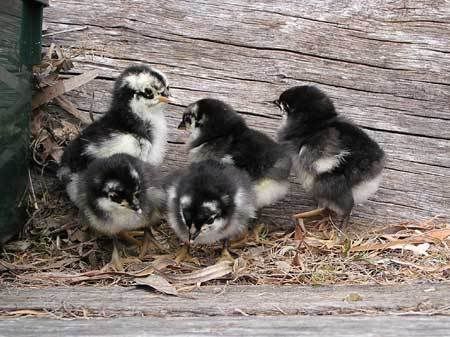 Here is a picture of some baby Australorp chicks. They are so cute with their white and black fuzz. As you can see by the first photo they lose their white feathers when maturing. Isn't it amazing how chicks develop. They normally look nothing like they do when they are first hatched.
Here's another picture of a Blue Australorp bantam cockerel.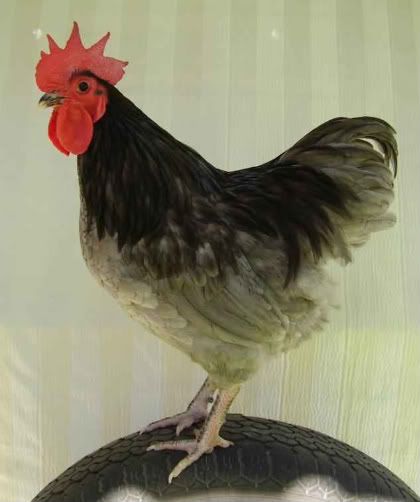 He looks more grey to me but what do I know. This breed comes in a variety of colorings and as stated before black is only available in the standard size but you can get blue or white in the bantam size.
So if you are looking for a chicken breed that is a champion egg layer (a long time ago), then this is it. As always when I write about breeds, I think I need some of the breed. I am looking for a docile breed in a rooster and hen that pays for it's upkeep with a consistent flow of eggs and from what I have just written and read about the Australorps these might fit the bill.
If you own some of this beautiful breed, please post a comment and give us some feedback. I would like to hear first hand from an owner.
**This was a comment quoted from McMurray Hatchery website.
Tags: backyard chickens, Poultry Breeds