Written by Carole
This is the beginning of a series on different breeds of chickens. First highlighted breed is Light Brahma.
If you are in search of a breed that is friendly and beautiful, the Light Brahma chicken breed will fit the bill nicely.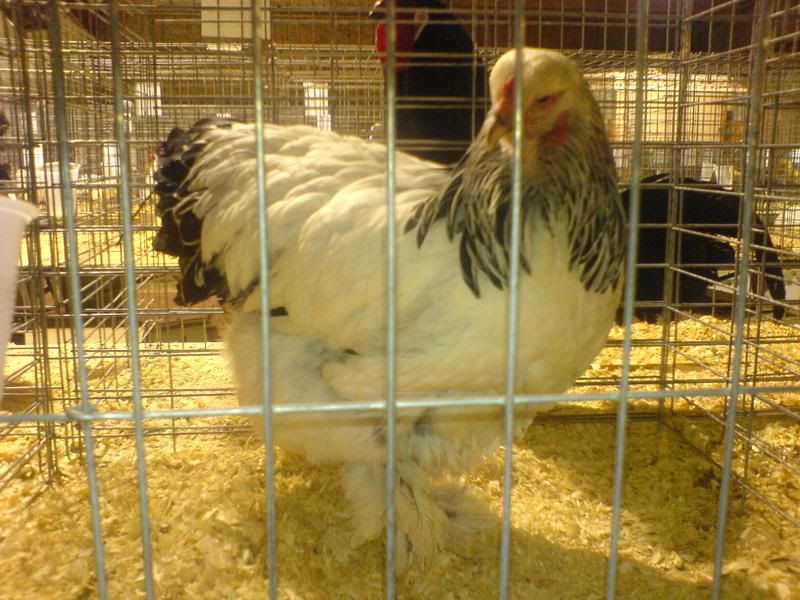 As you can see by the pictures above, this breed is beautiful! Pictured on the top is my cockerel, Jethro. The other picture is a hen that I found on Photobucket and is owned by Mikaela Rodriguez. They are a large size bird weighing about 9lbs. full grown. From what I have read they are slow to mature.
Here is a little of what I discovered about this breed:
Very gentle and can be easily handled

Lays medium brown eggs

Good brooder chicken

Feather footed

Has a variety of colorings: Light, Buff, and Dark

They come in standard size or bantam

Very hardy in heat and cold
My first rooster was a Light Brahma Rooster and he was the best. As stated above he was gentle and enjoyable to be around. In my experiences I have had with my latest addition, Jethro, he is also very friendly and will eat out of your hand.
I did note that due to the feathers on his feet he tends to lift his feet higher than the other chickens. I read somewhere it is best to keep this breed in a well-drained yard because if they run around in mud etc, they can develop mud balls on their toes. If this is not removed, the loss of nails or the tips of the toes may result. Being here in Florida it is sandy that I have not had that experience with either my past rooster or Jethro.
My future plans include acquiring a mate for Jethro so I can have lots of little Lt. Brahma's running around.If you have any experiences you want to share with the readers about this breed, please comment. We love to hear from you!
Also if there are readers out there that want to submit photos to me to share your breed with the other readers, please email me and send me the photo detailing the breed and age. To send me an email, click here.
8/19–Additional note: I saw someone was searching for question about when the Lt. Brahma cockerel starts crowing–Jethro started crowing at four months old. It will vary from chicken to chicken but I would say anywhere from 3 to 5 months you will be hearing your young rooster crowing. Pullets will start laying at approximately 5 to 6 months.
2/10/09–Owner/breeder of the hen pictured is Mikaela Rodriguez of Rodriguez Poultry in Oklahoma. The company previously bred Light Brahmas but now raises Langshans.
Another article concerning the Brahma breed~~Raising Light Brahma Chickens
Tags: chicken breeds